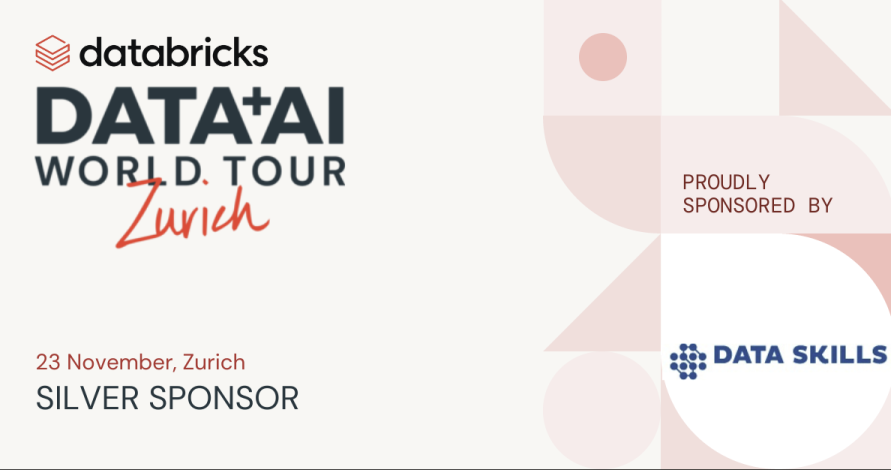 Dataskills, a leading company in the field of Data Science, is pleased to announce its participation as the principal sponsor of the prestigious "DATA+AI World Tour" conference organized by Databricks. This event is a must-attend for all data and artificial intelligence enthusiasts, and Dataskills extends a special invitation to all those who wish to participate.
The event is scheduled for November 23, 2023, at JED Events, located at Zürcherstrasse 39E, 8952 Schlieren in Zurich, Switzerland. The event will run from 9:00 AM to 6:00 PM.
During this special day, Dataskills' team will be available for one-on-one meetings, with the aim of sharing their extensive experience in the field of Big Data analytics and Artificial Intelligence applied to data. It will be a unique opportunity to discover how Dataskills' solutions and expertise can make a difference in a constantly evolving industry.
The event will also offer the opportunity to:
Discover the latest solutions and technologies presented by Databricks.
Learn from customer success stories and insights from Databricks experts.
Enhance skills in the field of Big Data analytics.
Expand your knowledge network.
Dataskills hopes to welcome a diverse audience eager to explore the frontiers of data analysis and Artificial Intelligence. The conference is an ideal opportunity to connect with key players in the industry and discover the latest developments in this ever-evolving field. Don't miss this unique opportunity for learning and networking.
To schedule a meeting with Dataskills' team during the event, contact us using the button below.
Comments are closed.